About the Program
S.A.G.E.™ is a versatile program that can be tailored to fit seamlessly into your district. The volunteer opportunities we offer include weekly volunteer opportunities as well as episodic events. All volunteers are vetted and trained for working with students virtually as well as in person.

Inviting those 55 and over into your schools to share their experience and knowledge with students provides an extra dimension to the classroom, allowing volunteers to work one-on-one or in small groups with students who might need extra help. This gives teachers the chance to work more closely with the rest of the class.

Furthermore utilizing the people in the community who no longer have students in the schools, offers these tax payers a window into what education is like today and the demands on educators. The bonus is these S.A.G.E.™ volunteers become advocates for teachers and the district itself. Students receive one-on-one attention, teachers receive extra help, and the volunteers gain a sense of purpose and a feeling that they are integral parts of the community.
How Volunteers Help
Assist with clubs or groups

• Scrabble Clubs
• Music Clubs
• Chess Clubs
• Garden Clubs
• Book Clubs
• Knitting Clubs
• Debate Team

In-class assistance

• Reading
• Math
• Mentoring
• Tutoring

One-time events

• Spelling Bees
• Science Fairs
• Professional Lectures
• Holiday Events
The Benefits of S.A.G.E.™
Students

An extra set of hands in the classroom means more personalized attention for every student.

Our volunteers have helped students "catch up" to the rest of the class when they've fallen behind; provided extra challenges to advanced students to keep them engaged; and assisted students for whom English is a second language. In addition to the academic benefits, the one-on-one attention has helped students become more confident, exhibit better manners, and become more comfortable around other generations.

Teacher and volunteer standing together

Teachers

More than 95% of teachers request the same volunteer in their classroom year after year – some pairings have even been together for the two decades that we've been in operation!

Weekly volunteers give teachers the ability to provide more individualized attention to their students, while specialty volunteer placements help teachers bring lesson plans to life by calling on their past professional and personal experiences. Ongoing volunteer training throughout the year ensures that our volunteers have the knowledge and know-how to participate in the modern classroom.
Volunteers

S.A.G.E.™ offers seniors the unique opportunity to play a meaningful role in the educational system long after their own children have graduated and to remain active and engaged in their communities.

Volunteers come to us for several reasons: they are looking for a way to remain active and involved in their community, they are new to the area and want to create new friendships and relationships, and most importantly they want to pass on their knowledge to the younger generation.

Communities

We bring generations together, creating bonds of mutual respect and comfort.

Dispelling stereotypes that seniors may have of the younger generation, and vice versa, creating a feeling of comfort between generations. Local partnerships between families, schools, businesses, community, and religious groups which has been proven to raise student achievement, and create and sustain safe communities. Increase in opportunities for youth and older adults to both give and receive support. Prevention of unnatural age segregation, which increases community awareness about issues that affect both young and old. Facilitation of community collaboration, pooling of resources, and encouraging cooperative problem solving. Promoting an appreciation for rich cultural heritage, traditions, and stories.
In 2017-18, S.A.G.E.™ provided $137,253* of value in five school districts

* According to the US Independent Sector's calculation of the value of a volunteer hour at $24.16
How It Works
Kickoff

We'll introduce the program to teachers & building administrators at a single on-site kick-off meeting. After announcing the program in local media, we will host an informational breakfast for interested seniors.

Match

S.A.G.E.™ coordinates with each partner district to offer an orientation where volunteers learn about the program and their roles and responsibilities, and sign our Volunteer Manual. Our favorite part – and the most important – we create custom pairings between teachers and volunteers based on teacher requests and volunteer expertise and availability.

Training & support

We will provide handouts for students to bring home to introduce their parents to the volunteers who will be in their classrooms. Throughout
the school year, we will match new volunteers with positions, provide ongoing assistance as needed, and hold training sessions to help our volunteers add even more value to your school.
Frequently Asked Questions
How much does it cost for the program?

There is a nominal cost to the program. Pricing will be provided upon request.
How are volunteers vetted?

All seniors must pass security clearances before entering school. In
addition, S.A.G.E.™ carries liability insurance to cover all volunteers
who enter the schools.
Share your story

We love hearing about your experiences with S.A.G.E.™! Your story may be selected to be featured in our newsletters and social media.

Refer a friend

Spread the word about the program to anyone you know who can benefit.
Student Benefits
Increase in self-esteem
Increase in knowledge, skills, and learning
Increase in understanding and appreciation of aging and older people
Decrease in the stereotypes of aging and older adults
New, positive connections and meaningful relationships with older people
Addition of supportive, positive role models
Additional support for students requiring extra attention
Increase in historical perspective
Increased sense of connection with the community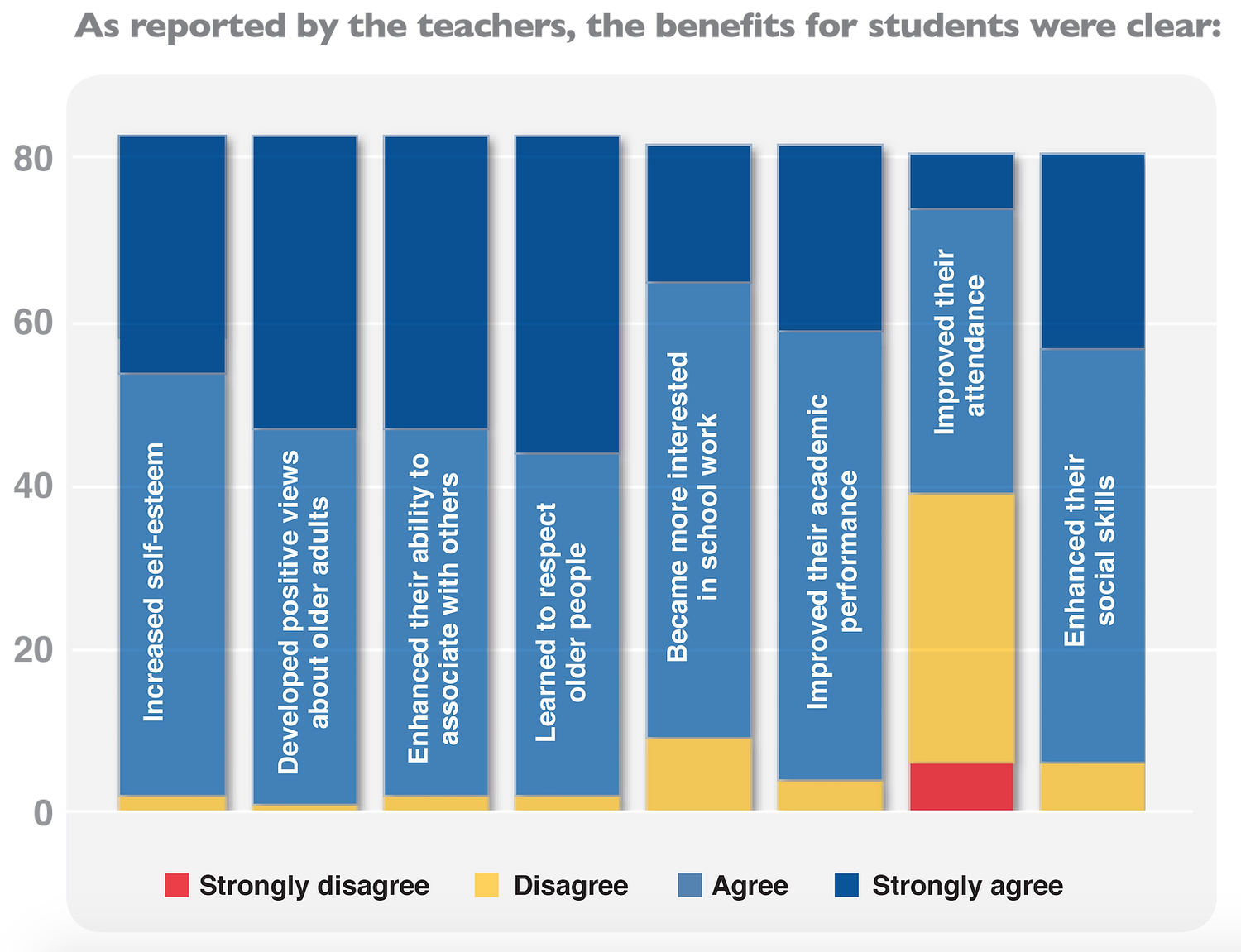 Volunteer Benefits
Increased satisfaction and purpose
Enhanced self-esteem
Addition of new, positive meaningful relationships with children and professionals within the community
An understanding and acceptance of today's youth
Opportunities to transfer knowledge, skills, and values to the next generation
A reduction in the sense of isolation
An increase in the stimulation of mental capacities
An increase in the connections within the community
Rekindling the joy of learning and living
Continued involvement in the community creating alliances with those who have children in the schools and those who do not
Community Benefits
The creation of bonds between older adults and students
Dispelling stereotypes that seniors may have of the younger generation, and vice versa, creating a feeling of comfort between generations
Local partnerships between families, schools, businesses, community, and religious groups which has been proven to raise student achievement, and create and sustain safe communities
Increase in opportunities for youth and older adults to both give and receive support
Prevention of unnatural age segregation, which increases community awareness about issues that affect both young and old
Facilitation of community collaboration, pooling of resources, and encouraging cooperative problem solving
Promoting an appreciation for rich cultural heritage, traditions, and stories